Avevamo concluso il post precedente con la question: cosa ha permesso alla math e alla razionalità dei greci di superare culture che conoscevano il theorem di Pitagora prima di loro?
It is said that one day Leonte, tyrant of Phlius, He asked Pythagoras "who are you?"And he replied,: "I'm a Philosopher
"And so it was that for the first time it was pronounced this term. (4)
Science without philosophy = home senza fondamenta
Quasi tutto il nostro know ha origine in Grecia, from philosophy : physics, l'empiricism, about logic, the right, Medicine. Suffice it to say that the doctors of today are still "Hippocratic Oathʱ??.
Il primo abbozzo di dimostrazione math l'ha lasciato Plato , as well as having laid the foundation for the study of geometric solids; il contributo di Aristotle alla fondazione della science moderna è inestimabile.
La mia piramide del know it's this one: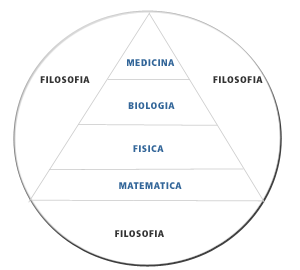 The first two are the basic science, without which the pyramid will not stand. The last two have a greater degree of uncertainty, They are more empirical and need the support of the base. We could build pyramids by replacing the last two sciences such as chemistry and biology with molecorale, interconnect the sciences that form the upper vertex of the various pyramids (is. molecular biology and medicine). In most cases, the upper vertex would be constituted by more than two sciences, but the basis remains the same and stand up by herself.
The philosophy è il mare che bagna tutte le terre. Touches all, but it does not belong to any particular one, It is free and universal. It may well not be there, but the world senza acqua non ha life.
The math è ciò che da consistenza alla science: «Tutto ciò che non si condensa in un'equazione non è science» Einstain. La Fisica è strettamene legata alla math, la usa, while the philosophy detta i principi ed i fini di tutte le discipline.
For example, the philosophy wonders: What are the mathematical entities?
Even mathematicians themselves do not agree:
Per Plato e per i realisti matematici gli enti matematici esistono indipendentemente dalla mind Human.
The logical attempted, in vain, di basare tutta la math on logic.
I formalisti la considerano solo un language per rappresentare la realtà.
It seems to me that the philosophy still has a lot to say.
how did he do Galileo a fondare la nuova science? He asked: What differentiates science dalla non science? Quindi ha usato la philosophy. If you open your dusty encyclopaedia, nella voce "philosophyʱ??, you will find him.
it's still:
Werner Heisemberg 1958: Fisica e Philosophy. The famous uncertainty principle of quantum mechanics is not convinced. The scientist had to give a philosophical basis for his theory that otherwise would have remained incomplete.
"Without mathematics it enters the point at the bottom of philosophy. Without philosophy we do not penetrate the mathematical background. Without the two there is nothing penetrates to the bottom. "
Senza la matematica non si può conoscere a fondo philosophy. Without philosophy non può conosere a fondo la matematica. Senza entrambe non si può conoscere a fondo anything.
Gottfried Leibniz
Questa volta le Applications I'm:
you think you can never base all sciences directly on mathematics?
Come mai al giorno d'oggi philosophy non ha più l'importanza che aveva nel world greco? Come mai quando si parla di Philosophy molte persone fuggono?
Because many "scientists" and do not include "snub" about philosophy?
The pyramid of sciences
last edit:
Monday,en,9 April 20:22, 2007
the